Meetup.com is an online service to promote and organize events. It is free to people attending, but there is a small monthly fee that the organizer has to pay.
How meetup.com works:
Meetup is similar to facebook, but there are some important differences:
Meetup is only for real life events
Users give meetup their location and interests
Meetup tells people when events are happening that match their interests and location.
It is important to understand the difference between profiles, groups and meetups.
Profiles can be an individual person or a business. Profiles can create a Group by paying to become an Organizer.

Groups are groups of people who share an interest and live in one area. Groups are started and run by organizers. Examples: Theravada Buddhism in Markham, Saskatoon Buddhist Meditation and more. For us, Asapuwa = Group.

Meetups are events that happen one time or on a regular basis. They are sponsored by a group. Examples: Friday Dhamma Talk, Intro to Buddhist Meditation. For us, Programs = Meetups.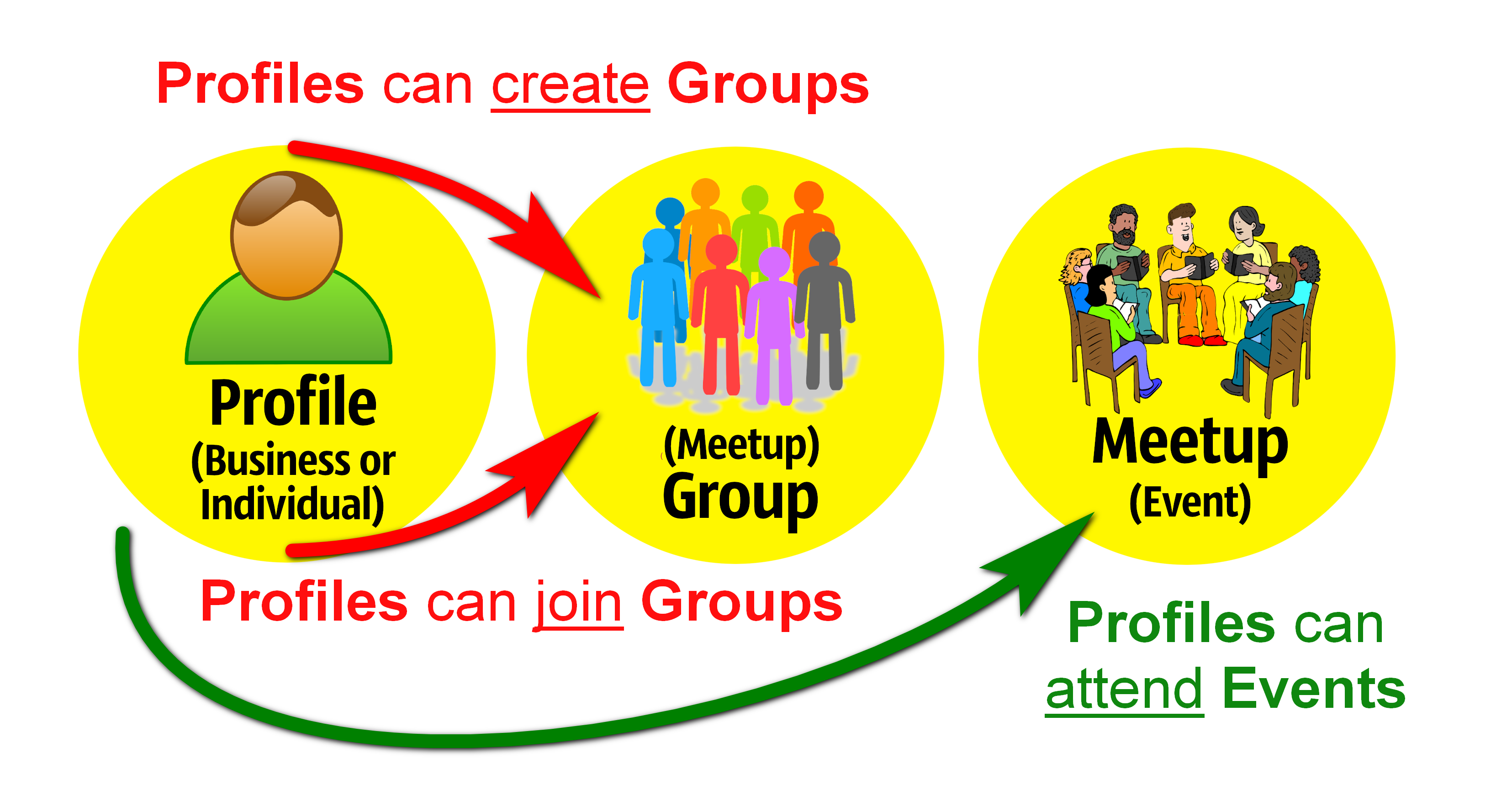 This can be a little confusing for us, because you will need to have a profile with a name publicly visible. It can have the same name as your group name. Or you could have your profile name be "Mahamevnawa Toronto" and your group "Buddha Meditation Centre Toronto".
Getting started with meetup
First you have to create a user Profile that will act as the Organizer.
Next you create a (Meetup) Group.
To finish creating a group, you must pay an organizer fee.
Next you create a Meetup (Event)
Images
Images make your meetup look more real to new people. There are two essential images to have: Meetup group photo and profile image.  There are three other places to use images: background image, banner image, and images in descriptions.
Meetup Group Photo
Click on Group Tools>Group Settings>Basics.  Look at the bottom for "meetup group photo" Select "chose photo" This image should be wide, not tall.  For example, This image is tall.
When it displays in search results, it looks like this:
Here are some other examples, both good and bad…
GOOD: people recognize the Buddha
BAD: Text covers face
---
GOOD: people recognize the Buddha
BAD: Text covers face
---
GOOD: people recognize the Buddha
BAD Nothing
---
GOOD: Nothing!
BAD: Everything! What happened? Meetup randomly picks a photo from one of your meetup photo albums as the search result photo.  For best results, Never upload photos to the photi album. If there are no photos in albums, then it always uses the Group Photo you selected.
---
GOOD: Nothing!
BAD: Impossible to tell what this is
---
GOOD: Looks good
BAD: Most people don't recognize the Bodhi leaf.
---
Important terms
RSVP: This is a French abbreviation that stands for "répondez, s'il vous plaît," which means "please reply" In meetup com, if someone RSVPs, it means they are going to come.
upcomming: these are meetups in your group that will happen in the near future
recent: these are meetups in your group that happened in the near past
past meetups: all of your group's meetups that have already happened.
Some important things to keep in mind:
Some cities have a lot of meetup users, some don't. The largest social meetup group in Saskatoon has 926 members. The largest on in Toronto has 9,800.
Ask people from your asapuwa to join meetup.com and be ready to join the group you create. This will show the public that there are other people involved. No one wants to join a group with one or two people.
about three days after you create your group, it will be announced to the public. Make sure everything is ready because this only happens once.
Choose good topic for your group to make sure the right people find out about it. For example:

Meditation
Spirituality
Buddhist Meditation
Breathing Meditation
Guided Meditation
Insight Meditation
Dharma
Theravada Buddhism
Vipassana Meditation
Buddha
Mindfulness Meditation
Dhamma
Buddhist
IMPORTANT: Choose the maximum number of topics it will allow(15). These topics are the way you get new members.  To add or change click on Group Tools>Group Settings>Topics

Make sure your group is named something general like "Free Buddhism in North Vancouver" not "Thursday Dhamma Talk."
Make sure your meetups are called something specific like" Thursday Dhamma Talk",  not "Come and check out our group."
75% of the people who join your group will never RSVP.
75% of the people who RSVP will not show up.
Examples of Asapuwa Meetup groups
http://www.meetup.com/NewJerseyMeditation/
Meetup also has an app for Android and iOS that lets you do some management tasks.